Have you heard about Annies Creative Studio Videos? well don't worry if you haven't as I am really excited to tell you all about this great collection of video's for you to view at your leisure.
An online video streaming service that focus on 6 different crafting interests:
Knit and Crochet Now!
Love crochet and knitting? Get hands-on instruction from our team of experts plus gorgeous patterns in every episode.
* * * * * * * * * *
Products we love
Get an insider's look before you buy. Watch Annies experts demo and review their favourite new tools and products that will save you time and money.
* * * * * * * * * *
Quilters Skill Builders
New to experienced quilters will add valuable skills with each fun-to-watch episode. This program kicks off with a fabulous mystery quilt-along designed by popular teacher Nancy McNally!
* * * * * * * * * *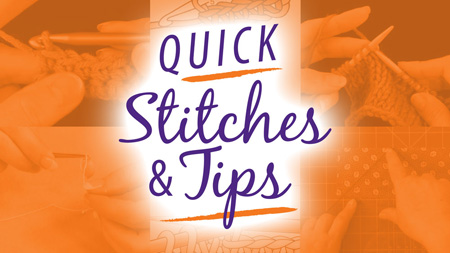 Quick Stitches & Tips
Your go-to library of short video tutorials for easy learning and quick refreshers in a multitude of crafts.
* * * * * * * * * *
Learn, Make, Create!
Build your creative skills. Get exclusive patterns. Learn new techniques. Make projects you'll love! Watch, discover and make at your own convenience.
* * * * * * * * * *
Creative Living
Discover new ideas in home decorating, holiday entertaining, color, organization, design, consumer shows and much more to bring creativity into your everyday life!
* * * * * * * * * *
Once you have subscribed the classes are open to you 24 hours a day and are viewable as often as you want for your enjoyment, available through your phone, tablet or computer.
Your ALL-ACCESS Membership Includes:
Over 500 how-to videos

Crochet, knit, quilt, sew, home decorating and more

Hundreds of pattern downloads

Amazing techniques and beautiful patterns

Helpful tips and tricks for faster, easier crafting

Watch on phone, tablet or computer — 24/7

New episodes added almost every day
You will love all these hours of crafting and can build your skills in many areas, discover lots of tips and techniques, the great news is there are more new episodes almost added daily.
Make sure you don't miss out on all the fun, if I have still not convinced you, you can check out Annies Creative Studio Videos for FREE as there is a 30 day FREE trial.
See my Palmeras Place Mat Review.
Don't forget to pin!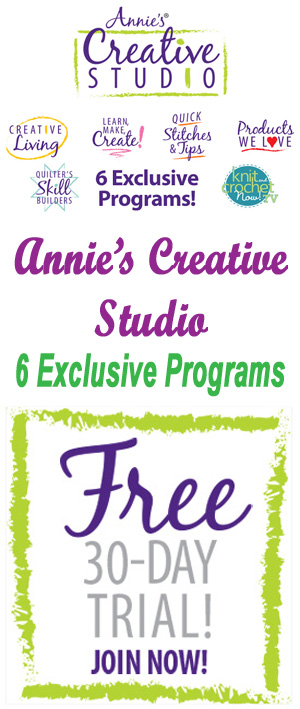 Bye for now.


* * *