A copy of the crochet Mirror Image Scarves book from Leisure Arts has been given to me as a sample to review, the opinions are my own and I have not been financially compensated in any way for this.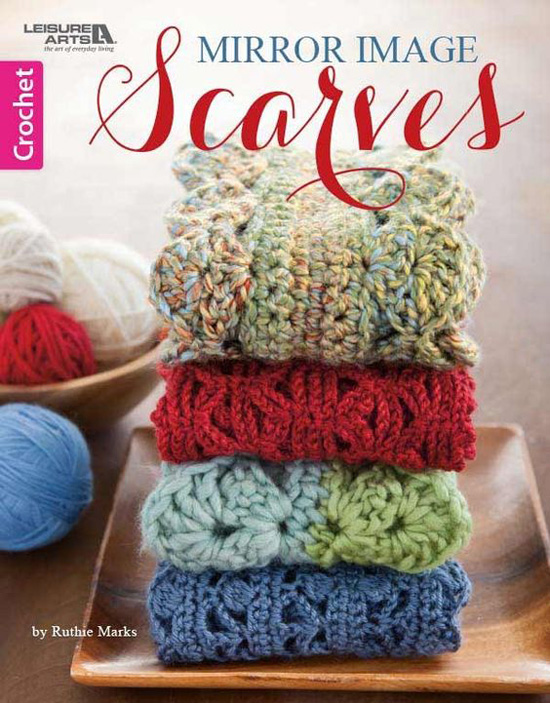 You'll love the easy mirror image technique of these eight scarves by Ruthie Marks they borrow their shapes from beautiful rolling hills, babbling brooks, intricate bridgework and ornate arches.
The scarves in this book were made using a variety of yarn weights, but any brand of the specified weight of yarn may be used.
Borders
Maritime
Arches
Filigree
Scallops
Hillcrest
Cascade
Parkway
If you wish to buy a copy of the book please click on any of the affiliate links below, you will be helping to support me to create more free crochet patterns as I will receive a small commission.
Title: Mirror Image Scarves
Author: Ruthie Marks
Publisher: Leisure Arts Inc
Format: PDF
My Review of the Crochet Mirror Image Scarves

The Crochet Mirror Image Scarves book is designed for beginners as well as the more advanced crocheters, all patterns written are made with basic crochet stitches and are in USA format. It is a lovely book to add to your library with full color photos included for each pattern.
A number of easy stitches from shells to picots are used in these beautifully and well written designs.
The mirror image technique involves working in rows, crocheting half of each scarf at a time, working along the opposite sides of the foundation chain.
The book also contains basic stitch instructions, hook sizes and yarn weights at the end, plus reference in each pattern to diagrams.
I thought each one was very pretty and reasonably easy to accomplish and I am sure your family and friends would love one as a gift.
***
Would you like to win a copy of the Mirror Image Scarves?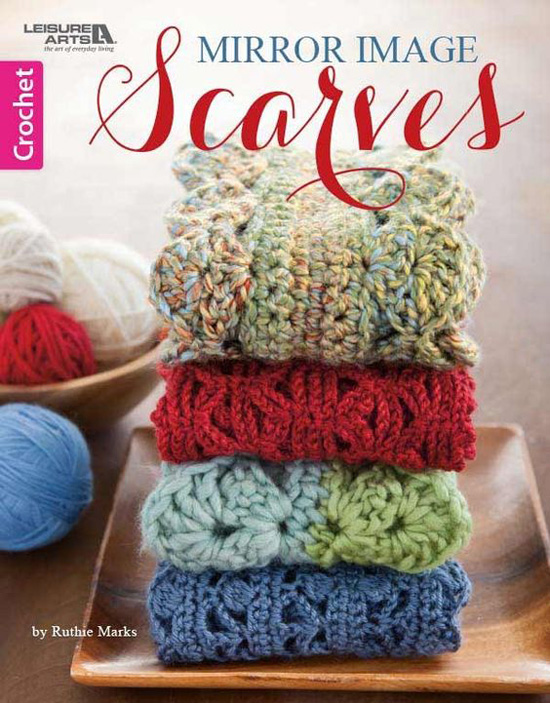 Enter with the Rafflecopter form below, the giveaway is open worldwide except where prohibited by law.One winner will be chosen at random from the entries submitted and the winner will receive 1 copy of Mirror Image Scarves. Good luck to you all.
Start Date: 18th February 2018 10.00am (gmt)
End Date:  25th February 2018 10.00am (gmt)
If you are the lucky winner you will need to have a LeisureArts.com account to get your copy.
If you are not lucky enough to win the giveaway and would like to buy your own copy of the crochet Mirror Image scarf book, you can get it direct from Leisure Arts.
Mirror Image Scarves ebook – $5.99
***
Thank you to Leisure Arts for providing me with the book to review, a copy for my giveaway and permission to use the photos.
See my King Cole Baby Yarn review.
* * * * * * * * * * * * * * * * * * * * * * * * * * * * * * * * * * * * * * * * * * * * *
To PRINT the pattern only, highlight by clicking at the start of the pattern, hold the mouse down, scroll down and release at the end of the pattern.
Go to FILE, PRINT, (usually top left of browser) when your printer box appears choose selection in the page range.
OR
The easiest way is to copy your selection and paste into a text program (ie, word, notepad etc) it may need tiding up, then print.
The print button BELOW will print all of the web page incl adverts etc.