A copy of the crochet Palmeras Place Mats pattern from Annie's — Signature Designs has been given to me as a sample to review, the opinions are my own and I have not been financially compensated in any way for this.
These dramatic place mats are stitched in a rainbow of bold colors that will be a lovely addition to any table.
Crochet with 1 skein of each in coral, aqua, soft blue, Mexican rose, mandarin and gold of DK-weight Omega Sinfonia using U.S. size E/4/3.5mm hook. Finished size is 14″ in diameter.
Yarn is available at AnniesCraftStore.com.
Palmeras Place Mat


The links below are affiliate links if you wish to buy a copy of the — pattern from one of these links (I will get a small commission (at no extra cost you), you will also be helping to support me to write more free crochet patterns.
Title:   Palmeras Place Mats
Author:  Lena Skvagerson
Publisher: Annies Signature Designs
Format: PDF $6.00 or Print to Order $8.00
My Review of the Crochet Palmeras Place Mats

I think the Palmeras Place Mat pattern is well written with clear — instructions.
There are pattern notes and explanations of any special stitches at the beginning of the design, I also like that the stitch counts are at the end of each round, so there is no need for ripping out too many rounds if you make a mistake.
There is a full stitch guide and stitch diagrams at the end of the — pattern. I'm sure you will love this pattern.
The colors used are stunning, each one can be bought from
AnniesCraftStore.com
***

Buy your own copy of the crochet Palmeras Place Mat pattern, you can get it direct from Annies Craft Store.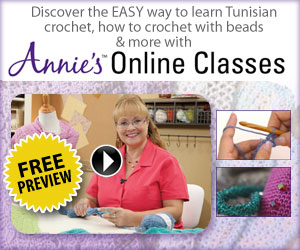 Thank you to Annies Catalogue for providing me with the pattern to review and permission to use the photos.
See my review for the Mirror Image Scarf by Leisure Arts.
* * * * * * * * * * * * * * * * * * * * * * * * * * * * * * * * * * * * * * * * * * * * *
The print button BELOW will print all of the web page incl adverts etc.