Valentine's Day is just a couple of day's away and is a perfect day to create some lovely crochet items for, I have made a roundup of seven love heart patterns that
I have selected from some of the blogs that I admire and support, you can use some of them to make added decoration to your gifts and crochet items.
1) Flower in a heart from Cre8tion Crochet, use to add to baby blankets, jackets, hats, scarves etc.

2) Crochet Heart Clip from The Stitchin Mommy, use to clip on and decorate parcels,
headbands, cards, clothing etc.


3) Tiny one round Hearts from Fiber Flux, make pretty garlands with these little hearts to hang on walls or tuck one under a loved one's pillow for Valentines Day.


4) Hearts, love and Valentines Day from Oombawka Design Crochet, there are several
options and sizes on the page for this lovely heart design.


5) Spike stitch heart pattern from Petals to Picots, make these delightful hearts in bright colors. They will compliment and Jazz up any on the go or finished project.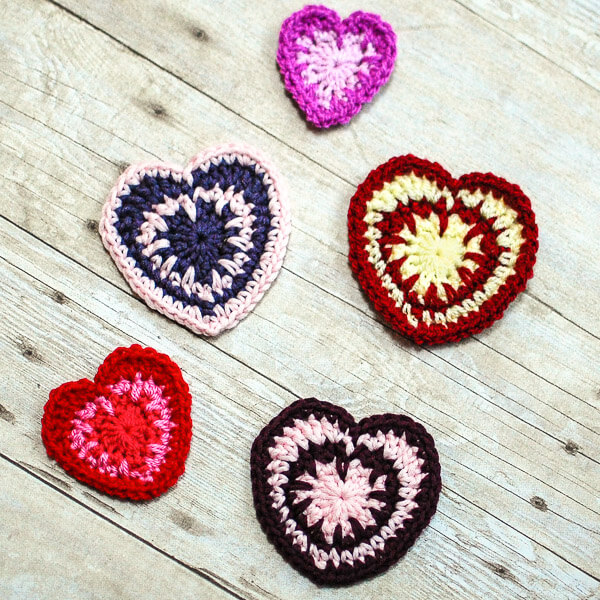 6) Pin Cushion Heart from Meladoras Creations, turn your crochet hearts into a pin cushion to keep your pins and needles safe, this pattern comes with an easy video tutorial.


7) Sachets of love from Pattern Paradise, I love these, we all have a stash of left over yarn, this pattern for these pretty little hearts would be great for you to use up your scraps.


I hope you enjoy crocheting these lovely seven love heart free crochet patterns, oh and don't forget to PIN this post so you have them handy for future reference ready to do that next
stunning crochet item.
Happy crocheting and have fun with your crafting until the next time.
Heather x
* * * * * * * * * * * * * * * * * * * * * * * * * *Save
Save
Save
Save
Save
Save
Save