Hi folks, I've added a silt stitch to my list of crochet stitches this week, it's a great pattern to use for blankets, cushion covers, cell phone, tablet cases etc.
This is a really easy quick design made up of 2 rows, I have used a few colors but it would look just as nice in 1 shade or 2, just play with your color combination until you are happy.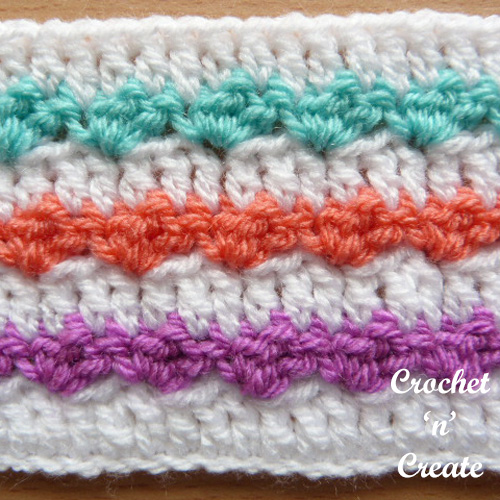 Silt Stitch Written Crochet Tutorial



Stitches Used
ch. Chain
sc. Single Crochet
dc. Double Crochet
rpt. Repeat
Base of ch. Work in first stitch
I used a 4.00mm hook with a main color and 3 contrast colors of Worsted Weight #3 yarn for this sample.
Using main color make a length of ch's in multiples of 3
Work 1dc in 4th ch from hook, 1dc in each dc to end. Fasten off. Turn.
Pattern Row 1 – Join in a contrast color, ch1, (1sc, 2dc) in base of ch1, * skip 2dc, (1sc, 2dc) in next dc, * rpt from * to * to last 2dc and ch3 to turn with, skip 2dc, 1sc in top of ch3. Fasten off. Turn.
Pattern Row 2 – Join in main color, ch3, 1dc in each dc and sc to end. Fasten off. Turn.
Rpt Pattern Rows 1 & 2 until your required length.
You can use a different contrast color on Pattern Row 1 if you would prefer.
Finishing – Weave in any loose ends of yarn and trim off. I weaved mine in as I worked along the rows.
Hope you enjoy making lots and lots of items with this lovely silt stitch.
Don't forget to pin it to your boards on Pinterest with the picture link below.

Send me some of your pictures of what you make from this pretty design, I would love to see them, have fun until next time.
Happy Crocheting.


* * * * * * * * * * * * * * * * * * * * * * * * * * * * * * * * * * * * * * * * * * * * *
To PRINT the pattern only, highlight by clicking at the start of the pattern, hold the mouse down, scroll down and release at the end of the pattern.
Go to FILE, PRINT, (usually top left of browser) when your printer box appears choose selection in the page range.
OR
The easiest way is to copy your selection and paste into a text program (ie, word, notepad etc) it may need tiding up, then print.
The print button BELOW will print all of the web page incl adverts etc.
Save
Save
Save