Crochet mug rug – The perfect item to give as a little gift or to make for yourself, use these coasters to give a splash of color on your side and coffee tables, make with or without the tassels.
I have crocheted them in an acrylic worsted weight yarn but you can use the same ply in cotton if you wish.
See my free Coasters & Basket and Circular coasters patterns.
Disclaimer: This site contains affiliate links. If you make a purchase after clicking on an affiliate link, I may receive a small commission (at no extra expense to you)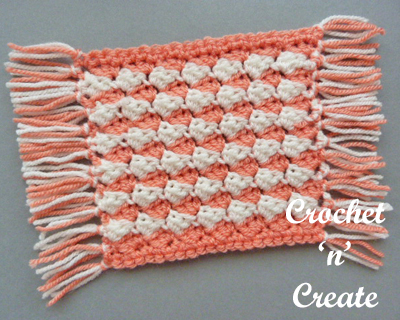 The pattern is an ideal one for you to use up your stash of yarn.
Follow me on Facebook and Pinterest
Get regular news on my FREE crochet
patterns directly to your inbox
* * * *
Crochet Mug Rug CNC124
Scroll down the page for FREE pattern
OR
Click to purchase a PDF of this pattern (advert free)

Find all my FREE crochet patterns HERE
Abbreviations
WS. Wrong Side
RS. Right Side
st. Stitch(es)
ch. Chain
sc. Single Crochet
hdc. Half Double Crochet
dc. Double Crochet
rpt. Repeat
sl st. Slip Stitch
Base of ch. Work in first stitch
Approx Finished Size: 5 Inches x 5 Inches
Materials
For great results it is always best to use the recommended yarn I have used:-
Small amounts of Paintbox Simply DK in each colors 1 & 2
OR
Small amounts of Worsted Weight #3 in colors 1 & 2
GAUGE – 1.5 pattern rpts & 3 rows measures approx 1 inch
***************************************************************
Weave in ends of yarn as you go.
Using color 1 ch23, (RS) work (1sc, 1hdc, 1dc) in 2nd ch from hook, * skip 2ch, (1sc, 1hdc, 1dc) in next ch, * rpt from * to * to last 3ch, skip 2ch, 1sc in last ch. Fasten off. Turn. (7 groups)
Join in color 2.
Pattern Row – ch1, (1sc, 1hdc, 1dc) in base of ch1, * skip 2st (1sc, 1hdc, 1dc) in next sc, * rpt from * to * to last 3st, skip 2st, 1sc in last st.
Fasten off. Turn.
Alternating colors 1 & 2 rpt Pattern Row until 13 rows have been worked in all from beginning, ending on a color 1 row. Turn.
Row 14 – ch1, 1sc in base of ch1, 1sc in each st to end. Fasten off. (22sc)
With WS facing join color 1 to starting ch edge and work 22sc evenly along to end. Fasten off.
Tassels x 30 – For each tassel cut 2 lengths of yarn (1 in each color) approx 2 inches long, (or your required length)
Finishing – Attach by folding each tassel in half and threading open ends through every row end of the rug, pull ends through the loop you have created and tighten to secure, trim tassels to make even.
* * * *
See more free crochet coaster patterns:-
Cotton Coaster – Pretty Square Coaster – Large Coaster – Granny Coaster
Bobble Edge Coaster – Mug Cozy Coaster – Spring Time
hope you enjoy all the designs, happy crocheting!
* * * *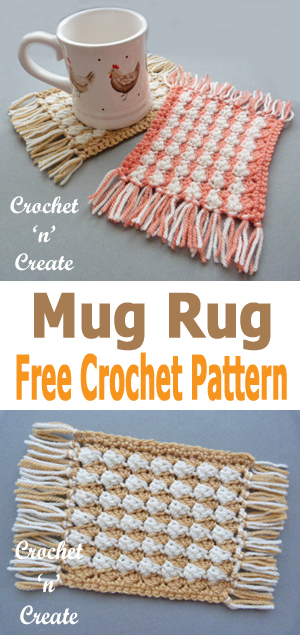 Back soon with more free patterns.


**************************************************************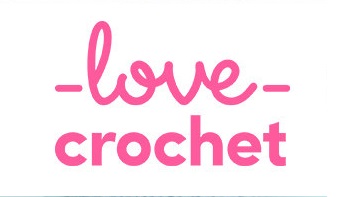 All pattern sizing, yarn weights, gauges etc on this website are approx as everybody crochets differently. Every effort is made to ensure this pattern is correct, but I am only human so mistakes may be made, if you find one please let me know by e-mail on crochetncreate@btinternet.com
The written instructions and pictures for this crochet mug rug pattern are copyrighted to crochet 'n' create © 2018.
You are welcome to sell the finished products made from the free crochet mug rug pattern, I just ask that you use your own pictures and put a link back to crochet 'n' create.
If you wish to tell your friends and followers about this pattern, please only use a direct link to the pattern page on crochet 'n' create.
DO NOT share the instructions for this crochet mug rug pattern.
* * * * * * * * * * * * * * * * * * * * * * * * * * * * * * * * * * * * * * * * * * * * *
To PRINT the pattern only, highlight by clicking at the start of the pattern, hold the mouse down, scroll down and release at the end of the pattern.
Go to FILE, PRINT, (usually top left of browser) when your printer box appears choose selection in the page range.
OR
The easiest way is to copy your selection and paste into a text program (ie, word, notepad etc) it may need tiding up, then print.
The print button BELOW will print all of the web page incl adverts etc.