Crochet post stitches are so called because they are worked around the post of the stitch, they can be used in a variety of designs from ribbing, cabling etc.
I have put together a pictorial below on how to do the front and back post using a dc or tr (UK).
* * * *
Crochet Post Stitches Pictorial

– dc/tr (UK)
I hope these step by step pictures help you to learn the post dc/tr (UK) technique.
Abbreviations
USA or UK
dc/tr. Double Crochet, (Treble Crochet UK)
yo. Yarn Over
Front Post Double Crochet
1) yo
2) Insert hook under the front of the post on the dc/tr (UK) from the row below.
3) Pick up yarn.
4) pull through under post.
4a) yo, pull through 2 loops.
5) yo, pull through last 2 loops.
6) frpdc or tr (UK)
Back Post Double Crochet
7) Insert hook under the back of the post on the dc/tr (UK) on the row below.
8) Work your dc/tr (UK) in the same way as in pictures 3 to 6.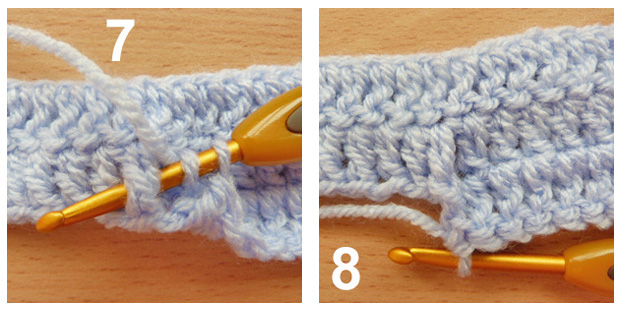 If you are subscribed to receive my free crochet patterns, I will be using this method in the coming weeks in some of my new designs, so keep a reference handy and pin it to your boards on Pinterest.
I have many more free crochet patterns using this textured stitch see also:-
Crochet Baby Popcorn Set – Baby Puff Stitch Cardigan
– Fringed Scarf
Until next time, happy crocheting.


************************************************************
7 day FREE trial on Craftsy Unlimited
The written instructions and pictures for this free crochet post stitches pictorial are
copyrighted to crochet 'n' create © 2017.
You are welcome to sell any finished products made from this crochet post stitches pictorial, I just ask that you please use your own pictures and put a link back to crochet 'n' create.
If you wish to tell your friends and followers about this crochet post stitches pictorial, please only use a direct link to the page on crochet 'n' create.
DO NOT share any of the pictures or written instructions in this post.
* * * * * * * * * * * * * * * * * * * * * * * * * * * * * * * * * * * * * * * * * * * * *
To PRINT the pattern only, highlight by clicking at the start of the pattern, hold the mouse down, scroll down and release at the end of the pattern.
Go to FILE, PRINT, (usually top left of browser) when your printer box appears choose selection in the page range.
OR
The easiest way is to copy your selection and paste into a text program (ie, word, notepad etc) it may need tiding up, then print.
The print button BELOW will print all of the web page incl adverts etc.