Crochet Ripple Stitch Pictorial – This beautiful stitch pattern is also known as chevron crochet, use for many projects such as
blankets, baby items, afghans or dishcloths etc.
When made using several colors it can be quite stunning.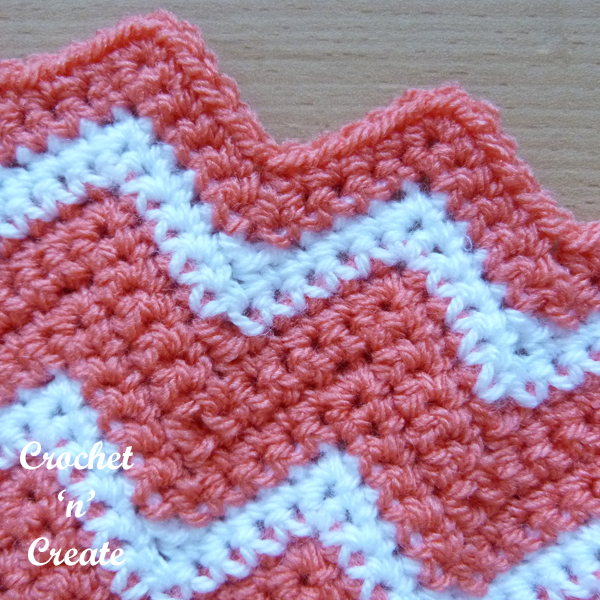 Disclaimer: This site contains affiliate links. If you make a purchase after clicking on an affiliate link, I may receive a small commission (at no extra expense to you)
Get regular news on my FREE crochet
patterns and stitch tutorials sent directly
to your inbox
* * * *
* * * *
See more free crochet stitch tutorials:-
Peaked Group Border – Peaked Group Border – Tiny Popcorn
Crunch Stitch – Wattle Stitch – Single Crochet Group
hope you enjoy all the instructions, happy crocheting!
* * * *
* * * *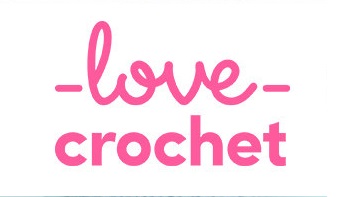 * * * *
If you enjoy learning how to crochet stitches and would like me to write more free crochet tutorials, please share a link to this post on your Facebook and Pinterest
* * * *
Find all my FREE crochet patterns HERE

* * * *
Crochet Ripple Stitch Pictorial
An easy stitch to do once you get the hang of it, this pretty technique has an easy repeat and is quick to learn. Hope you enjoy my pictorial below.
Abbreviations
USA or UK
Ch. Chain
sc/dc. Single Crochet/Double Crochet (UK)
Rpt. Repeat
Base of ch. Work in first stitch
Make a chain length in multiples of 11 + 2
With color 1 work 2sc/dc in 2nd ch from hook, 1sc/dc in each of next 4ch, * skip 2ch, 1sc/dc in each of next 4ch, 3sc/dc in next ch, 1sc/dc in next 4ch, * rpt from * to * across to last 7ch, skip 2ch, 1sc/dc in next 4ch, work 2sc/dc into last ch. Turn.
1) ch1, 2sc/dc into base of ch1.
2) 1sc/dc into next 4sc/dc, skip 2sc/dc.
3) 1sc/dc into each of next 4sc/dc.
4) 3sc/dc into next sc/dc.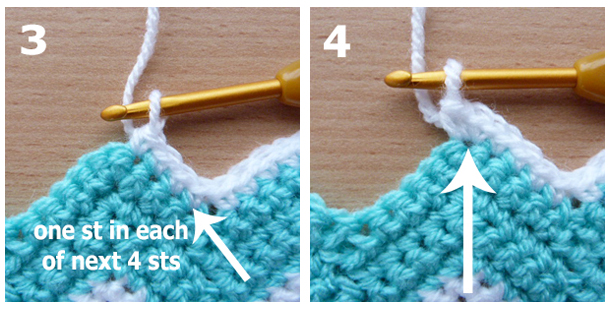 5) 1sc/dc into each of next 4sc/dc.
Repeat steps across row to last 7sc/dc, skip 2sc/dc, 1sc/dc into next 4sc/dc, work 2sc/dc into last sc/dc. Turn.
Continue in rows as set until you have your required length. I have worked 4 rows in color 1 and 2 rows in color 2, but change the colors to your own choice.
Have lots of fun with this beautiful stitch and make lots of lovely items, don't forget to pin it for when you want to use.

* * * *
I have many more crochet stitches pictorials and tutorials:-
Small Shell – Grit Stitch – Dividing Armholes – Herringbone – Neat Edge – Piggyback – Post Stitches – Magic Circle – Popcorn – Two Cluster Stitch
______________________________________________________________________________________________
The written instructions and pictures for this free crochet ripple stitch pictorial are copyrighted to crochet 'n' create © 2018.
You are welcome to sell any finished products made from this crochet ripple stitch pictorial, I just ask that you use your own pictures and put a link back to crochetncreate.
If you wish to tell your friends and followers etc. about this beautiful crochet ripple stitch pictorial, please you only use a direct link to the page on crochet 'n' create. DO NOT share any of the pictures or written instructions in this post.
* * * * * * * * * * * * * * * * * * * * * * * * * * * * * * * * * * * * * * * * * * * * *
To PRINT the pattern only, highlight by clicking at the start of the pattern, hold the mouse down, scroll down and release at the end of the pattern.
Go to FILE, PRINT, (usually top left of browser) when your printer box appears choose selection in the page range.
OR
The easiest way is to copy your selection and paste into a text program (ie, word, notepad etc) it may need tiding up, then print.
The print button BELOW will print all of the web page incl adverts etc.