Crochet Hairband – An adult hairband, which I have designed it in puff and single crochet stitch, using a 4.50mm hook and worsted #3 yarn.
Great for keeping your hair back from your face, it is a quick pattern to crochet and will be lovely for gifts as well as yourself.
Crochet Hairband CNC106
Scroll down the page for FREE pattern or
Click to purchase a PDF of this pattern (advert free)
Find all my FREE crochet patterns HERE
Abbreviations
WS. Wrong Side
RS. Right Side
ch. Chain
sc. Single Crochet
rpt. Repeat
sl st. Slip Stitch
yo. Yarn Over
ps. Puff Stitch
* yo, insert in stitch and pull up loop, * rpt from * to * once, yo pull through 4 loops, yo pull through 2 loops.
Base of ch. Work in first stitch
Size to fit approx: Adult
Materials
For great results it is always best to use the recommended yarn I have used:-
25 grams of Paintbox Simply DK
OR an equivalent yarn would be:-
1oz of Worsted Weight #3
GAUGE – 4ps & 3 pattern rows measures approx 1 inch
************************************************************
ch10, (WS) 1sc in 2nd ch from hook, 1sc in ch to end. Turn. (9sc)
Next Row – ch2, (RS) 1ps (see abbrev) in base of ch1, 1ps in each sc to end. Turn. (9ps)
Pattern Row 1 – ch1, 1sc in base of ch1, 1sc in each ps to end. Turn.
Pattern Row 2 – ch2, 1ps in base of ch1, 1ps in each sc to end. Turn.
Rpt Pattern Rows 1 & 2 until 28ps rows have been worked in all or work measures approx 20 inches.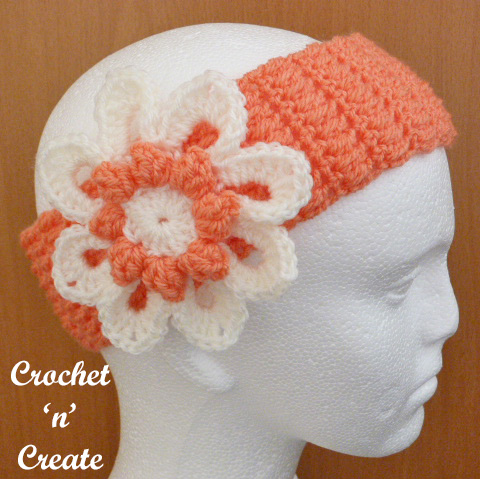 With WS facing, fold work in half so that the short sides of both ends are lined up, sl st along through both sides of work to make a round. Turn. through to RS.
Popcorn Flower – Click here for the free instructions
Finishing – Weave in all loose ends of yarn and trim them off, —- attach popcorn flower.
Don't forget to pin it!
Bye for now.


*****************************************************

Get access to Craftsy's entire video tutorial catalog free for 7days
See more free crochet ladies wear patterns:-
Lively Bean hairband – Adult Headband – Ladies Headband
Bumpy Earwarmer – Valentine Headband – Earwarmer Headband
Brimmed Summer Hat – Diamond Necklace – Sparkly Jewellery Set
hope you enjoy all the designs, happy crocheting!
________________________________________________________________________________________________
All pattern sizing, yarn weights, gauges etc on this website are approx as everybody crochets differently. Every effort is made to ensure these free crochet patterns are correct, but I am only human so mistakes may be made, if you find one please let me know by e-mail on crochetncreate@btinternet.com
The written instructions and pictures for this free crochet hairband pattern are copyrighted to crochet 'n' create © 2018. You are welcome to sell the finished products made from the free crochet hairband pattern, I just ask that you please use your own pictures and put a link back to crochet 'n' create.
If you wish to tell your friends and followers about this pattern, please only
use a direct link to the pattern page on crochetncreate. DO NOT share the written instructions for this free crochet hairband pattern.
* * * * * * * * * * * * * * * * * * * * * * * * * * * * * * * * * * * * * * * * * * * * *
To PRINT the pattern only, highlight by clicking at the start of the pattern, hold the mouse down, scroll down and release at the end of the pattern.
Go to FILE, PRINT, (usually top left of browser) when your printer box appears choose selection in the page range.
OR
The easiest way is to copy your selection and paste into a text program (ie, word, notepad etc) it may need tiding up, then print.
The print button BELOW will print all of the web page incl adverts etc.